MYaPhoto by Brooke Cagle on Unsplash
The growth and development of your child can be attributed to the relationship they see between Mum and Dad. It affects their understanding of security, nurturing and relationships. From a couple in the season of parenting three children under the age of 5, here are four tips for strengthening your marriage for yourselves, and for your children.
1. Always Speak Well Of Each Other
It can become so easy to blow off some steam during a night out with friends and talk about the tiny things that bug you about your partner. But this will set a negative tone to your relationship. It's best to speak well of your partner, even more so when you're not together.
2. Break Away From The Hollywood Illusion Of Marriage
Hollywood sells the illusion that after we're married, we're off into the sunset, and it's all perfect from there. But that is actually when the real work starts. It's important to go into marriage knowing this. It's not a bad thing that people think love is meant to be, we just need to remember that for anything to be good you have to work for it, you have to put in the effort.
"I think people are a bit shocked that marriage is hard"  – Tamara El-Rahi
3. Seek to Improve Your Marriage From The Start
It's important to be a couple who are trying to have the best marriage possible, right from the start – not 20 years in when you've already got problems or resentments. Working on problems early in a marriage is sure to increase longevity.
"You really get to know each other, and you see each other's strengths, and you see each other's weaknesses."
4. Organise Dates…At Home!
Getting out of the house, organising babysitters and making reservations can be difficult with the demands of being a parent. But that doesn't mean dates can't happen. Date your husband or wife at home. Order take-away, watch a movie or plan an activity in your backyard! Carving out the time to make the date happen at home means you can't make any excuses!
The following is an excerpt from episode #16 of The Parent-Teacher Project entitled Ideas for Strengthening Your Marriage with Nadim & Tamara El-Rahi and Isabelle Thomas.
Listen to the entire episode below.
Don't forget to leave us a review on Apple Podcasts!
Latest Stories from PARED Academy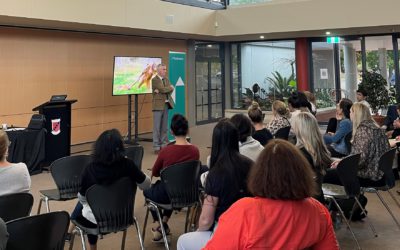 While parents are the primary educators of their children, teachers and mentors also play a vital role in students' character development. Before the beginning of Term 2, 33 new members of staff...
From time to time you've probably wondered why your teenager tends to act so impulsive. As you read on you will not just understand more about your teenagers brain, you will also…
From time to time you've probably wondered why your teenager tends to act so impulsive. As you read on you will not just understand more about your teenagers brain, you will also…